Biography (long)
Composer and conductor Michael Ostrzyga was commissioned by Schleswig Holstein Musik Festival, World Symposium on Choral Music 2023 in Turkey as well as 2020 in Auckland, NZ, Alte Oper Frankfurt, Kammerchor Stuttgart and director Frieder Bernius, Finnish YL Male Voice Choir (Ylioppilaskunnan Laulajat), Latvian Youth Choir "Kamēr…", via-nova-chor Munich, StimmGold Vokalensemble (Regensburg, Bavaria), and Chamber Choir Consono, to name a few. He draws inspiration from a wide variety of sources, including natural, technological, astronomical, historical, mythological and pop-cultural phenomena and contexts.
His works are performed by ensembles like Rheinisches Klavierduo, Raschèr Saxophone Quartet, Neues Rheinisches Kammerorchester, Jeaner Philharmonic Orchestra, Boston Modern Orchestra Project, Concerto Köln, Freiburger Barockorchester, New Dublin Voices, Australian Chamber Choir, Swedish choirs Kammarkören Pro Musica, Allmänna Sången and S:t Jacobs Vokalensemble, Chorwerk Ruhr, and MDR-Rundfunkchor as well as musicians like pianists Yin Chiang, Klaus Oldemeyer, Christoph Schnackertz, and Thomas Stumpf, organists Martin Herchenröder and Johannes Geffert, and violinist Peter Stein. His full-length Oratorio "Puer natus est" for soloists, chorus and large orchestra, libretto by Winfried Böhm, was hailed as "resounding success" by Bavarian Broadcasting. As music theorist he specialized in composition in historical styles and instrumentation. He presented a completion of Mozart's Requiem fragment merging, for the first time, musicological with historically informed music theoretical approaches and artistic practise in composing, orchestrating, and arranging. The edition was published in 2022 by Bärenreiter and became a bestseller. The CD recording was nominated for an Opus Klassik as "Editorial Achievement of the Year" in 2021.
Ostrzyga serves as Music Director at University of Cologne, where he is head of the Collegium musicum, an organization housing the university's major musical ensembles. As conductor of orchestras and choirs, he has appeared in concerts in the Cologne area, as well as abroad. Developing partnerships with organizations and creative artists of all kinds and launching the concert series Universitätskonzerte when he took his duties in 2008, he firmly established the Collegium musicum as an important and acclaimed cultural constitution.
He was conductor and artistic director of the Oratorienchor Brühl from 2007 to 2019. As a guest conductor, he collaborated with ensembles like Boston Modern Orchestra Project, Bochumer Symphoniker, Neue Philharmonie Westfalen, Musikfabrik, and Neues Rheinisches Kammerorchester. On a regular basis he is working with the Kölner Vokalsolisten and their founder Fabian Hemmelmann. He served as chorus master for, among others, Pablo Heras-Casado (Luciano Berios "Passagio", with ensemble intercontemporain), Duncan Ward (Manfred Trojahns "Les dentelles de Montmirail", with Ensemble modern) and François-Xavier Roth (Philippe Manourys "Lab.Oratorium", Beethoven's 9th, Stravinskys Symphony of Psalms, with Gürzenich Orchester Köln). Commissioned by the Gürzenich Orchester Köln, he assembled the Bürgerchor Köln in 2022 and serves as its chorus master since. He appeared in festivals like Brühler Schlosskonzerte and Acht Brücken, conducting for instance vocal works by Ligeti and Morton Feldman's Rothko Chapel. As a formerly active pianist, he co-founded the chamber music ensemble Sforzato presenting concerts combining music of all eras and genres. Throughout all of these various positions, he has regularly commissioned, prepared and/or premiered numerous new works by composers such as Martin Herchenröder, Friedrich Jaecker, Jan Masanetz, Marcus Schmickler, Anno Schreier, and Manfred Trojahn.
Ostrzyga was born in Castrop-Rauxel, North Rhine-Westphalia in Germany, where he was initially trained (piano, organ, choral conducting) by Bruno Zaremba before studying conducting with renowned conductor Marcus Creed, music theory/composition with Friedrich Jaecker, and piano with Peter Degenhardt.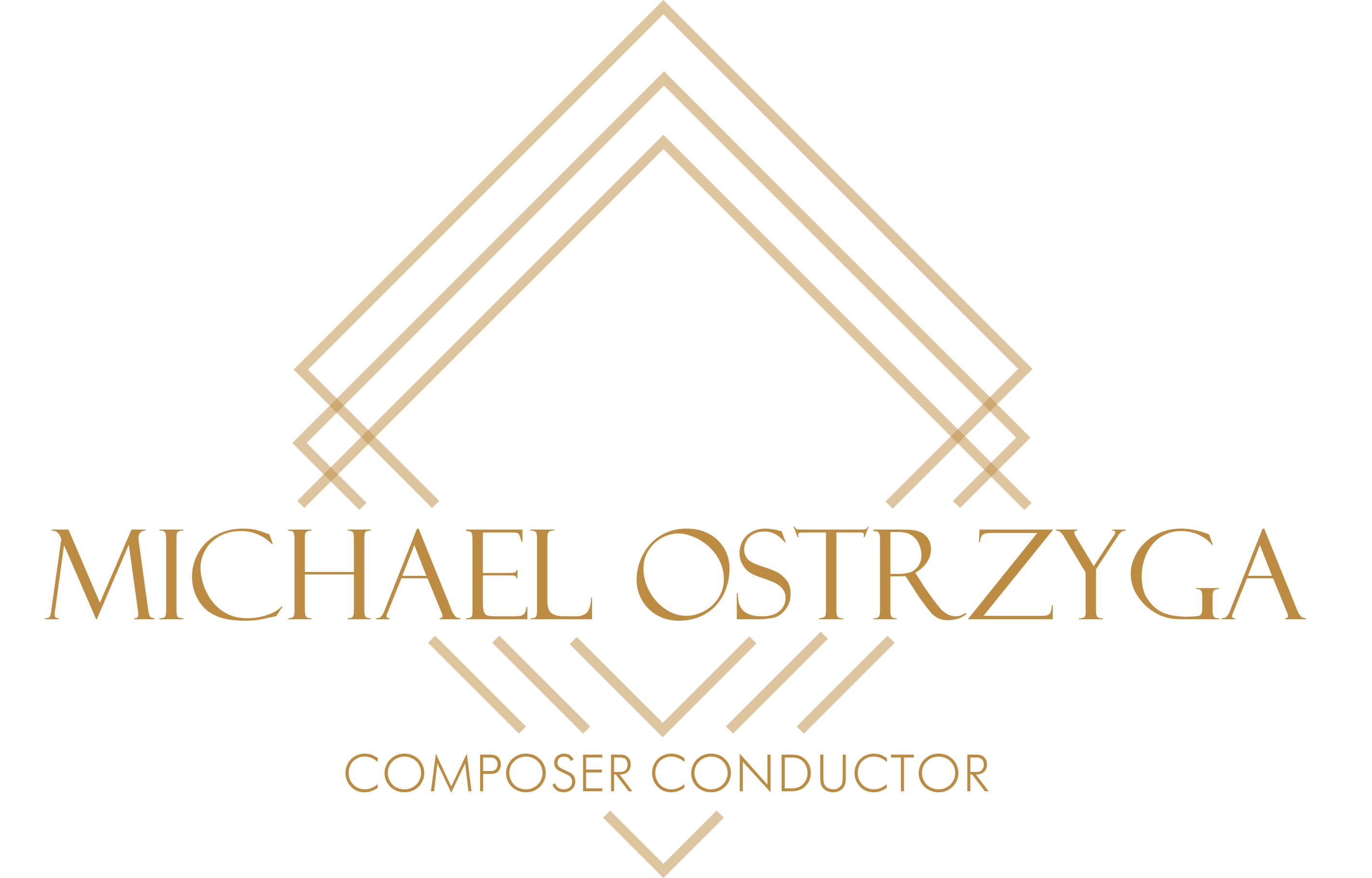 © 2023 Michael Ostrzyga